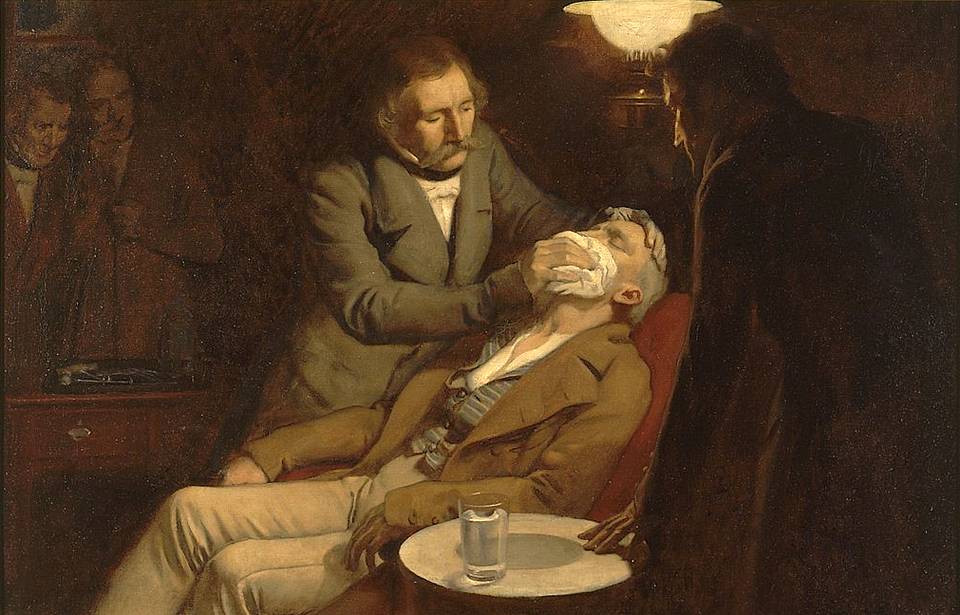 In 1846, an artist recorded the first use of ether in dental surgery. A risky procedure with a temporary effect but still progress compared to the past.
In the Mesolithic period, stone tools were used to try to deal with infection, or repair damaged teeth. Later civilisations in Egypt, Greece and Rome did develop more sophisticated dental skills, as changing dietary habits required.
Farming, rather than hunter gathering brought a stable food supply but the nature of this increased tooth decay. A position which has worsened throughout modern history, our passion for sugar a good example.
Fortunately, hygiene and understanding have improved in recent times. When blacksmiths and barbers were carrying out dental work in the middle ages, most people believed decay came from small worms burrowing inside our teeth.
By the 17th century, oral bacteria had been identified, a new medical practitioner called an "operator for the teeth" arrived on the scene. London was a centre for them and has remained a leader in improving dental treatment.
Significant Developments
Medical books focused on dentistry helped to improve care, along with practical additions. The commercial version of the toothbrush we all know so well was invented by William Addis, whilst a political detainee in a London prison.
Apart from being uncomfortable, dentures had long been a privilege of the rich, until a mouldable rubber compound called vulcanite made them far more wearable and reduced their cost.
General anaesthesia became possible in the mid 19th century and local anaesthetic a few decades later, foot operated drills were a further advance.
Along with fine, purpose made dental tools, they supported a profession serving the growing middle class. A group which demanded improved competence in dentists and the elimination of common poor practice.
Professional Status
Up to the mid 19th century, most dentists learned their trade through an apprenticeship, producing differing standards of treatment. A few related lectures at centres such as Guys Hospital London took place but with no attendance requirements.
Individuals can make a difference and John Tomes did so in the UK. Helping to found the Dental Hospital of London in 1858, a National Dental Hospital a year later and persuading the Royal College of Surgeons to grant a license in dental surgery.
Both hospitals had teaching schools attached, clinical demonstrations were provided for outsiders to attend. A medical profession was being established, with an act of parliament and a professional register in place by 1879.
London facilities had often been ahead of this change, Guys appointed a dental surgeon in 1799, King's College Hospital had a dental department in 1839, although treatment received elsewhere still varied in standard.
Into Modern Times
The 1878 act had focused more on protecting the term dentist, than the practice of dentistry. Restricting the profession to fully qualified dentists did not truly happen until the passing of the Dentists Act in 1921.
More universities took up the banner and degrees in dentistry became the norm, with London centres prominent. The Eastman Dental Institute deserves a mention, founded in 1926 and still a leading teaching centre as part of UCL.
Technological development has equally transformed dentistry, from efficient anaesthesia, to digital imaging, filling materials, implants, orthodontic appliances and above all, a higher standard of learning.
Elgin Dental Care has been offering dental care in West London since 1939 and this aspect of the capital's dental facilities has always been important to us. Professional development is and should be a continuous process.
We promise not to use stone tools, or those you saw at the head of the page. Dentistry has progressed more in the last 20 years than the previous 200 and we are proud to share London's role in this.