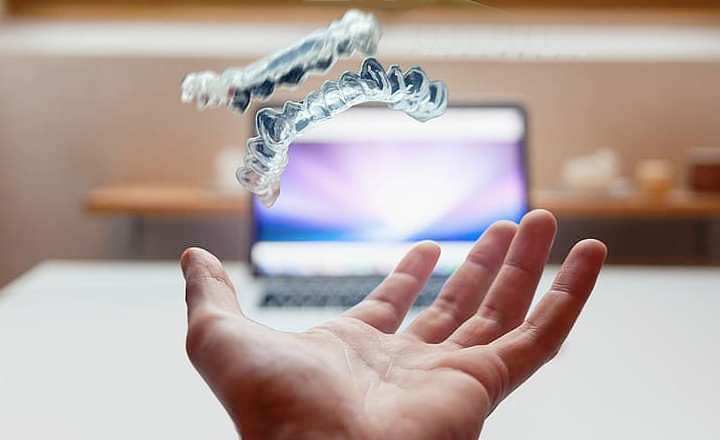 There has been a rash of magazine and TV ads promoting online braces, primarily aligners. We understand they appear to save money at a time when finances can be tight but reduced cost may not be the result.
If the treatment does not achieve what you want, you end up having to pay twice. Aligners ordered online could also bring bills for dental repair work.
Incorrect orthodontic treatment can lead to tooth loss, gum recession, nerve damage, or reduce your ability to bite. A significant number of people have required care, to try to deal with the damage done.
Preparation & Understanding
Online purchasers may simply be sent a DIY impression kit, to take moulds of their own teeth. The other option is a 3D scan of the mouth, carried out at a shop, or office, belonging to one of the suppliers.
No in person consultation will have taken place to determine suitability for the treatment, or any harm this might do. Aligners are convenient but not the answer for everyone, or suited to their current oral health.
Decay, or gum disease are not aways obvious and with those present, pressure from aligners could bring misalignment, or tooth loss. The roots of your teeth may not support movement from aligners, part of the reason for x-rays.
Regular appointments for an orthodontist to monitor progress are essential, for any adjustment, or to deal with complications. An online review, or no contact, are not appropriate to maintaining oral health and making progress.
A Professional View
Health reasons apart, you undertake orthodontic treatment because you want a fine smile which lasts. Achieving this requires specialist care.
The British Dental Association stated that a 3D scan and remote support are not sufficient for aligners. A British Orthodontic Society representative pointed out that the outcome could be a disaster, without proper monitoring.
The UK's regulator, the General Dental Council feel the same, stating there is no substitute for an in person, clinical examination, before treatment begins. They have no motivation beyond protecting patients.
The Elgin Perspective
As a practice which embraces the latest aids, we are not technophobes. If an online sytem for orthodontics were rational, we would use this.
The reality is that the idea is not rational, may not work for you and holds inherent risks. The many years of training and experience an orthodontist gathers are there for a reason, your progress and wellbeing.
Effective orthodontic care requires complete understanding of a patient's individual oral health and what they can achieve. On a journey which they and our team take together, through shared responsibility and achievement.
If you require orthodontic treatment, we would be pleased to offer this but wherever you choose to go, please opt for the level of care you deserve.